Our President, Philip Chow, was honoured with the Queen Elizabeth II Diamond Jubilee Medal by Markham's Mayor Frank Scarpitti & Members of Council for his significant contribution to the community.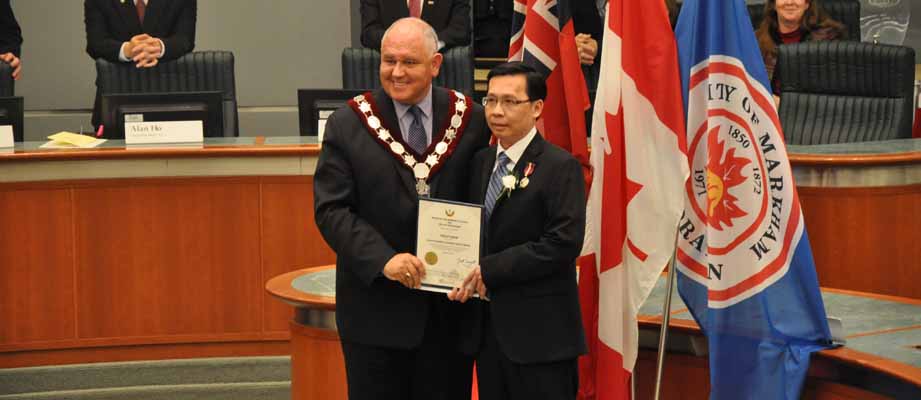 Since the early 2000's, Philip has been heavily involved in the Unionville Soccer Club as a volunteer coach and on its Board. Then in 2008, Philip decided to start a grass root badminton club geared towards family play. In 2010, he officially formed a Not-For-Profit organization – the Markham Badminton Club (MBC). Under his leadership, along with many dedicated volunteers (Board, gym managers, instructors and youth council), he grew MBC from less than 10 members to over 900 members.
In 2011, Philip took his vision to the next level – the formation of the Federation of Badminton Club (FBC) to unite the badminton community as well the different badminton clubs for the betterment and promotion of the sport of badminton.
In 2012, Philip was asked to take on the formidable task as the Chairman of Badminton for the TO2015 Pan Am Games.
As a result of Philip's tireless volunteer efforts in the community, particularly in the sport of badminton, Councillor Don Hamilton, also a strong advocate of the badminton community, nominated Philip for this prestigious honour – Queen Elizabeth II Diamond Jubilee Medal. See attached link for further details on the Medal.
Please join us in congratulating Philip Chow on this momentous occasion as well as thanking him for all his hard work to promote badminton in the community.
MBC Board